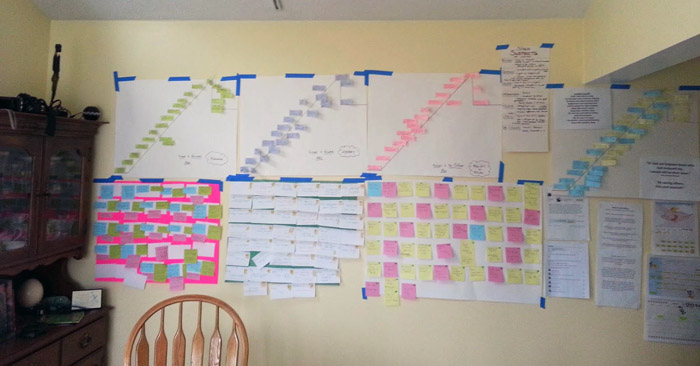 Creative revision
Can revision be creative?
A large proportion of my time is spent working with GCSE students, helping them to become 'exam fit'. I see a wide spectrum of students, from those that are already working to detailed timetables to those that have yet to begin. What never ceases to surprise me is how most students think there is only one way to study; reading and rewriting their notes.
Before we begin our workshops I ask students what is currently working for them when they do revise. Very few hands go up. When they do, the answers usually focus on environmental factors such as listening to music or switching off the mobile phone. Few students imagine that there might be other approaches to how they study and revise.
Over the last ten years of specialising within the field of studying and revision I have come to the realisation that being creative and flexible in our approach to revision is critical in its success. Applying some creativity to your revision will help to engage the brain and stay focused. We might even enjoy it a little more.
So how can we be creative when revising?
Research shows that creativity works well within a planned framework or time structure. We recommend that students create a simple revision planner. When adhered to, this removes the threat of procrastination and distraction. We advocate a 'spaced learning' method of breaking an hour of revision into three, 20 minute chunks.
1. Gather info: In the first 20 minute chunk, the student will read their notes, highlight key words and fill in any gaps in their information. It is important to stay alert by keeping the question in your mind, "What do I need from this?" Always have a pen in your hand when reading so that you can make selections and annotate as you read.
2. Be creative: In the second 20 minute chunk, the student will apply a creative learning strategy to the information they have just gathered. They could select one from techniques such as: mind mapping, mnemonic devices, memory posters and the number rhyme method. Even the process of condensing and selecting key information, then applying a mnemonic conversion already aids in the transfer of information to long-term memory.
3. Test: In the final 20 minute chunk, the student will put their notes away and test themselves on what they have just revised. Self testing is one of the most powerful ways of revising. It quickly highlights our strengths and points to areas which need further work.
Our studying made simple and exams made easy workshops give your students the approaches and strategies needed to be creative when they revise. Through testing these strategies, they can select the appropriate and relevant techniques for themselves, building their own revision toolkit. I love it when a student's eyes suddenly light up as they realise that a specific strategy really clicks with the way they like to learn.
Call us to find out how we can make a big difference to your students and ultimately, your results.